I came across the above picture on Imgur, of a man who had just graduated from elementary school, with the caption 'So proud of my dad'. I consider this worth highlighting for the attitudes of both the dad for going back and emphasising to his child the importance of education, perseverance and trying to improve, and the child, who recognised this achievement and wanted to share his pride. However, instead of celebrating this, most of the comments were derogatory, denigrating the man's appearance. Bullying is as worrying in the digital world as it is in the physical. This is perhaps one of the reasons for the reluctance of some teachers and parents to interact with technology, or to allow technology into the classroom.
However, avoidance is really not the answer. A responsible parent does not respond to the potential for bullying in the playground by refusing to let their child out. Instead, they teach their child how to interact with other children and how to report incidences of bullying. So, parents and teachers aim to help students avoid being the victim or perpetrator of bullying. CEOPS and other organisations are trying to tackle the latter, but much of the teacher training in this area seems to be trying to tell teachers not to use facebook and other social media. Similarly, parents are scared by newspaper articles about worst case scenarios and often have little experience of the sites and platforms their children frequent. According to the NSPCC (2011) , 48% of young people in the UK have been effected by cyber-bullying and 28% did not tell anyone about it. If teachers, parents and other responsible adults are known by a child to not understand the platform and its cultural mores, who can the child ask for advice?
On the other hand, I was delighted to see on twitter the below Acceptable Use policy (tweeted by @IanYorston). In my opinion, this document reflects exactly what we want to be teaching our students about using the internet. Not only does it promote respect and protecting the student themselves, but also gives equal weight to treatment of others over the internet. This is vital. As parents and teachers would encourage considerate and ethical behaviour in the physical world, so too must this be taught in the digital realm. Unfortunately, the potentially faceless nature of some internet communications does mean that children (and adults) don't always think about how their hurtful comments can effect others. Therefore, explicit reminders such as those on @IanYorston's poster are important steps for reducing cyber-bullying. Whether this cyber-ethics is taught at home or at school, as part of ICT, Philosophy, PSHE or other subjects, students should be made aware of the impacts of their behaviour online. The neglect of this aspect of the fight against cyber-bullying is eerily reminiscent of the assertions of anti-rape lobbyists, who insist that females (or males) are taught to avoid dangerous situations and not to dress provocatively, but that males should be taught not to rape.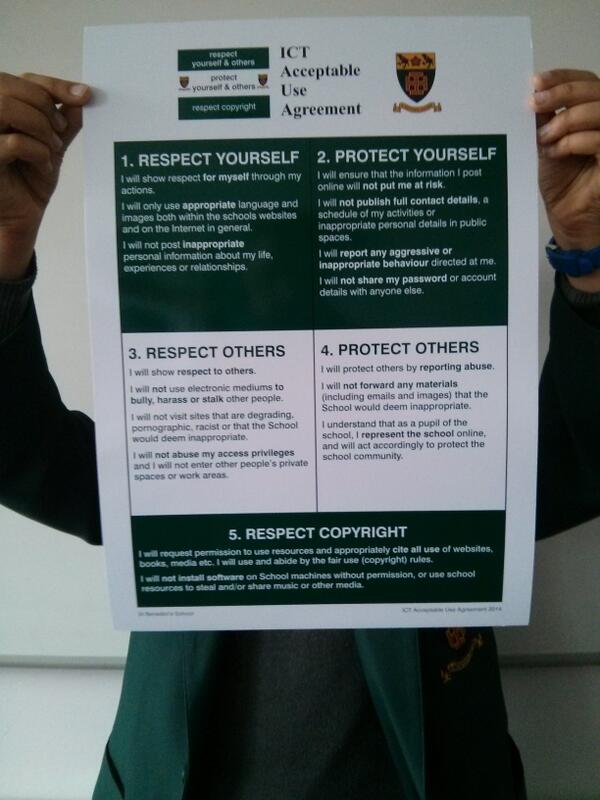 To educate about the internet, teachers, staff and parents need to be aware of the possibilities, platforms, functions and forms (both positive and negative) and promote responsible use so that students not only avoid victimisation, but also avoid causing hurt to other people or infringing on their rights (such as copyright). Let's celebrate the wunderkammer that is the digital world and the unlimited possibilities for learning and socialisation, while helping our students become considerate, full digital citizens.
Related
https://www.nspcc.org.uk/Inform/resourcesforprofessionals/bullying/bullying_statistics_wda85732.html 
http://www.bullying.co.uk/cyberbullying/